Jobs co-created
A job is empowering and gives women the opportunity to provide education to their children and more nutritious food to their families. Watch this inspiring video in which 15-year-old Mittal shares how she can study and pursue her dream to become a policy woman, thanks to the income her mother earns from working at Women on Wings' business partner Unipads India.
Our results per September 30, 2022:
Direct impact measurement
Together with EY and Erasmus University Rotterdam, we developed an impact measurement model: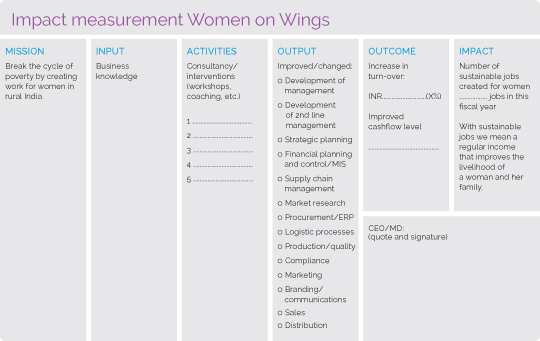 Twice a year, the impact of our work is verified with our business partners. The business partners fill in the areas of support, improved turn-over (if applicable) and the number of women with a sustainable income. Existing research from highly regarded institutions around the world underlines the importance of an income for rural women and the short- and long-term impact on their families.
Impact on experts and business partners
Next to the above visible impact, there has also been immense invisible impact of our work over the years. In FY 2020-2021 we invested in assessing and documenting the invisible impact that we have created for our experts and the social entrepreneurs (our business partners). Research organization Prastut Consulting from Gurgaon performed the assessment among sixteen experts and nineteen social entrepreneurs. As it turns out, the impact of the work of Women on Wings is reciprocal: where the experts support social entrepreneurs in India to bring more business to their companies, the entrepreneurs inspire the experts to introduce a social mission in their work in the Netherlands. The work in India enriches the experts and gives them more meaning in life. In addition to professional knowledge, entrepreneurs in India also acquire personal skills through interaction with our experts. As a result, they approach entrepreneurship more pragmatically and with more confidence, energy and satisfaction. The Indian entrepreneurs and Dutch experts learn from and inspire each other. This clearly adds value, both in India and in the Netherlands.
Prastut's detailed impact assessment report can be downloaded here.