Jobs co-created
Women on Wings, in collaboration with its business partners, aims to co-create one million jobs for women in rural India. The results per March 2020:
Direct impact measurement
Together with EY and Erasmus University Rotterdam, we developed an impact measurement model: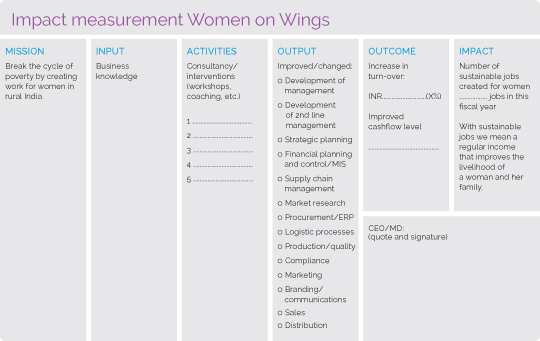 Twice a year, the impact of our work is verified with our business partners. The business partners fill in the areas of support, improved turn-over (if applicable) and the number of women with a sustainable income. Existing research from highly regarded institutions around the world underlines the importance of an income for rural women and the short- and long-term impact on their families.
Indirect impact assessment
Next to the above visible impact, there has also been immense invisible impact of our work over the years. In FY 2020-2021 we invested in assessing and documenting the invisible impact that we have created for our experts and the social entrepreneurs (our business partners). Research organization Prastut Consulting from Gurgaon performed the assessment among fourteen experts and nineteen social entrepreneurs. Prastut's detailed impact assessment report can be downloaded here.