The value chain model clarifies in headlines the business areas we support. Based on the demand of the social enterprise we jointly decide on which topic we start working. We have no standard solutions. Each enterprise has its own specific challenges. We have a tailor-made approach and call that 'craftsmanship in consultancy'. We believe in long-term relationships. Therefore, we aim to work together for at least three years. Change does not happen overnight.
Value chain model
The value chain model below clarifies the business areas we support: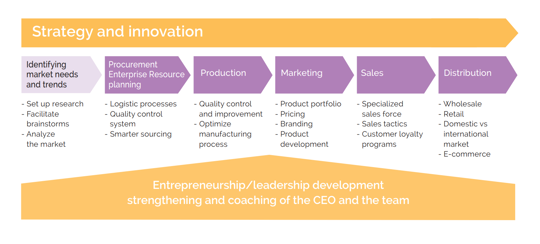 If you are interested in partnering with us, please try the quick scan to find out if you are eligible. But before taking the quick scan, answer these two questions:
– Are you a social enterprise that creates employment opportunities for women in rural India?
– Do you want to develop your organization but you don't know exactly where to start?
If you can answer both questions with 'yes' then try the quick scan to see if and where we could support you.
We DO NOT focus on training programs for women.
Or contact us via info@womenonwings.com.