Women on Wings and the National Skill Development Corporation signed a Memorandum of Cooperation during a round table which was organized last week to celebrate Women on Wings' 7th anniversary in New Delhi.
Growing need for skilled (wo)manpower
Women on Wings and the National Skill Development Corporation (NSDC) will join hands in connecting skill development to job creating business models and vice versa. NSDC was set up as part of a national skill development mission to fulfil the growing need in India for skilled (wo)manpower across sectors and narrow existing gap between the demand and supply of skills. The business partners of Women on Wings are the type of organizations that NSDC targets.
A job after skill development
According to Mr. Jaikant Singh, Head Partnership & State Alliance at NSDC, "The partnership will accelerate what NSDC and Women on Wings are doing. Skill development and employment go hand in hand. Women on Wings plays a critical role in improving the livelihood opportunities for women across the country". Ronald van het Hof, Managing Director Women on Wings India added, "This partnership is a perfect match. Already in the first meeting we were convinced we can really contribute to each other's goal."
NSDC to contribute to next step Women on Wings business partners
Women on Wings and NSDC will look at the existing Women on Wings' business partners and see how NSDC can contribute to their next step with its specific target areas. The Memorandum of Cooperation was signed in the presence of Ellen Tacoma, co-founder Women on Wings, Ineke Bezembinder of Women on Wings in India, and Mr. Alphonsus Stoelinga, Ambassador of the Kingdom of the Netherlands, at whose residence the round table was held.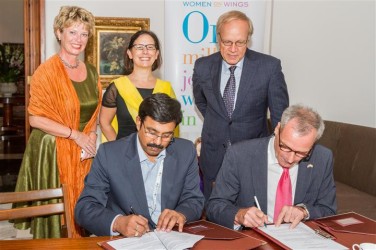 Photograpy by Women on Wings expert Marcel van Mourik