Women on Wings has the ANBI-status, granted by the Dutch Tax Administration. It is mandatory for ANBI charities to publish information regarding contact details, policy, financial data and current activities on the internet in order to maintain the ANBI-status. The information below is therefore in Dutch.
Women on Wings is aangemerkt als een algemeen nut beogende instelling (ANBI). Hierdoor genieten onze donateurs belastingvoordeel. Ten behoeve van de registratie als ANBI maakt Women on Wings melding van het volgende:
Doelstelling van de organisatie
The Women on Wings missie: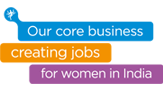 Een baan betekent inkomen. En kans op economische onafhankelijkheid. Als we geschikte banen creeren voor vrouwen op het Indiase platteland, helpen we de armoedespiraal te doorbreken. De ervaring leert dat vrouwen het verdiende geld besteden aan hun families en kinderen naar school sturen, die daarmee kans maken op een betere toekomst. Lees meer over de visie en missie van Women on Wings.
Jaarverslag en jaarrekening
Women on Wings wil economische groei realiseren voor vrouwen in India door het creëren van één miljoen banen voor vrouwen op het Indiase platteland. Het totale aantal gecreëerde banen eind september 2019 is 278.000. Lees meer over onze resultaten per 31 maart 2019 in het jaarverslag 2018-2019 en over onze toekomstplannen in ons jaarplan 2019-2020.
Organisatie en beloningsbeleid
Lees meer over de organisatie van Women on Wings.
De bestuurders zijn voor onbepaalde tijd benoemd en vergaderen vier keer per jaar. Er zijn vijf toezichthoudende bestuurders die op afstand betrokken zijn. Zij worden niet betaald voor hun werk voor Women on Wings. Er zijn twee managing directors aangesteld die verantwoordelijk zijn voor de resultaten die met de business partners in India worden bereikt. Zij worden betaald voor hun werk.
Het bestuur heeft naast de beheersingrollen ook de taak om het bezoldigingsbeleid en de hoogte van de directiebeloning vast te stellen. Hierbij volgt het bestuur van Women on Wings de Adviesregeling Beloning Directeuren van Goede Doelen van de VFI. De Adviesregeling geeft aan de hand van zwaartecriteria een maximumnorm voor het jaarinkomen. De weging in 2012 leidde tot een zogenaamde BSD (Big Safe Dividends)-score van 370 punten. De beloningen van de directie bleven binnen deze VFI-maxima.
Contactgegevens in Nederland en India.
Overig
Het RSIN/fiscaal nummer van de organisatie is 818424692.