In a two-day fieldtrip to Munger, Bihar, we visited six DharmaLife entrepreneurs (DLE's). DLE's are selected and trained by DharmaLife to become entrepreneurial changemakers in their society. Together with BVHA, SEWA Bharat and Restless Development awareness is created on menstrual hygiene. Women become aware of the necessity to take good care of themselves during menstruation and use hygienic products like sanitary pads. DLE's sell the cause and the product through individual approach or 'Tupperware-party'-like meetings, called Mahila meetings.






Top, left to right: Pinki, Sita, Suman, Seema
Bottom, left to right: Meena, Punam
In rural Bihar, for a woman working outside the house support of her family is important. Suman's husband fully supports her and even convinces other men to do the same. He too believes in the cause of good menstrual hygiene ánd the empowerment of women. He is actively involved and it is showing.
Seema takes things up a notch. She has bought a small piece of land and built a shelter. She made this a dedicated place for women of her village and Meena's village to meet. Seema and Meena work together. They assist each other in their meetings and by doing so, they learn and grow.
Because in rural Bihar money is always an issue, Seema uses a reverse approach in explaining why to use sanitary pads, even though it is more expensive than using your old sari:
"When becoming ill due to insufficient hygienic measures you need to attend to a doctor, several times. In the worst scenario you'll need to go to hospital. What will this cost you? Then you need to buy medicine, what will this cost you? On a yearly basis, what does this cost compared to the costs of sanitary pads?" In short: 'One rupee a day, keeps the doctor away.'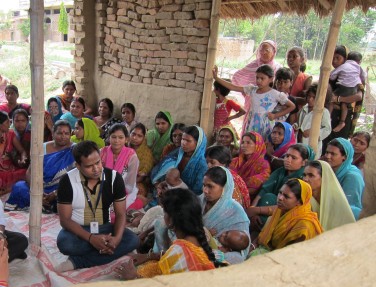 Overall we had a wonderful trip and were amazed what achievements have been made in such a short time. All women, trained only a month ago, have already created a dedicated customer group. Many thanks in this also go to Amit, Enterprise Leader of Munger. He has recruited the women, made them and their families feel comfortable with the idea and is coaching them with great dedication. Making periods normal!