Aakar, SSP/Sakhi Retail and Women on Wings start with two business units in Maharashtra for the production and sales of sanitary pads in rural India. The three organizations have signed an agreement on September 3rd, at the residence of the Dutch Ambassador in Delhi, in the presence of Dutch Minister Ploumen for Foreign Trade and Development Cooperation.
The Indian organization SSP / Sakhi Retail has a network of 1,000 women entrepreneurs in the Indian state of Maharashtra. Women on Wings supports these local entrepreneurs with business and sales knowledge. Aakar Innovations Pvt. Ltd. provides the necessary machinery and raw materials.
Sombodhi Ghosh, Director of Aakar: "By connecting each other's knowledge, business and network we will further develop the sanitary pads business units in the near future. Aakar's slogan is 'transforming Lives through Innovations' and that's what this sanitary pads program is all about."
The collaboration is not just about the production and sale of sanitary pads, but also provides an educational and awareness program for women and girls in the region.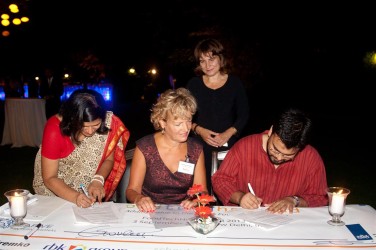 Caption: Deepika Sharma (on behalf of SSP / Sakhi Retail), Maria van der Heijden (Women on Wings), Minister Ploumen and Sombodhi Ghosh (Aakar)
Photo: expert Marcel van Mourik