On 19 February, Sake Bosma, CEO of Holland Payroll, and Maria van der Heijden, co-founder of Women on Wings, put their signatures under a structural cooperation. With this partnership, both parties join forces for new jobs and incomes for women in rural India. Holland Payroll contributes financially and examines with its clients the opportunity to make further finance or expertise available to entrepreneurs in India.
Sake Bosma: "I'm impressed how Women on Wings, with relatively limited resources, realizes so much impact in the area of work. Every job created and thus income for a woman, means food and education for her children. The approach of Women on Wings matches our vision perfectly. We offer our clients practical solutions to the problems of today, which at the same time respond to the challenges of tomorrow. Women on Wings does the same. Not just a short-term structural solution, but also a whole new chance for a next generation. With this targeted and personal approach, Women on Wings is really making a difference."
Holland Payroll is preferred supplier of FME, Netherlands largest employers' organization in the technology industry. It offers solutions in the areas of deployment of flexible staff. Many of its clients operate internationally and are facing increasing economic fluctuations for products and services. Through Holland Payroll's customized payroll services, businesses get more opportunities in the deployment of staff. At the same time staff has more chance of work at the same conditions as its own employees.
Maria van der Heijden: "We are very pleased to partner with Holland Payroll. The core of their work fits nicely with ours. Every human being has the right to employment and income. In addition, I am very happy of the enterprising and pragmatic style of work that typifies the people of Holland Payroll."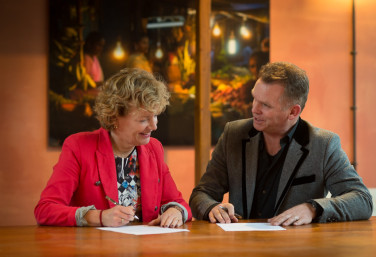 Photo: Aad van Vliet